Office Phone : 022 422 8409
First Class

Accounts Ilam
Your local friendly and
approachable
Accounting Professionals! 
We offer cost effective accounting services all tailored to help you maximise the returns from your business and rental properties.  We're local, friendly, approachable and part of nationwide group of accounting professionals passionate about helping our clients achieve their goals!
Whether you have an existing business or are just starting up, we aim to provide you with a personalised service. We will give you advice that is easy to understand and we will provide you with practical,  competitive solutions tailored to your needs.
LEARN ABOUT FIRST CLASS ACCOUNTS
Annual Financial Accounts
We can prepare your annual financial accounts so that your business can provide financial transparency for shareholders. 
We offer a business health check to translate your businesses financial situation so that you clearly understand your financial position. 
We offer rental accounting services to make reporting your rental
income easy and stress free.
We offer business advice to ensure that your business stays on the right track towards financial success.
We provide expertise in financial reporting so your can make informed financial decisions.  
We can assist in setting up your business so you can focus on running it.
With a double major in accountancy and finance from the University of Otago William and the team at First Class Accounts Ilam are well qualified to help you maximise the returns from your business and rental properties.
GROW YOUR BUSINESS WITH OUR FREE APP
Business Resource Center App
Free Video, Tips and More...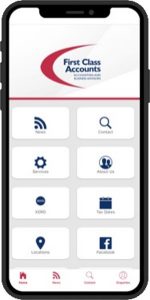 First Class Accounts are a nationwide team of business experts dedicated to increasing your financial return from your business.
Partnering with accounting providers like MYOB and Xero helps us to support you even more.
Can We Help Your Business?
Let's Have A Friendly Chat To Find Out.